How To Guide
Pin & Comment
The pin-and-comment feature in the MachineBuilder platform was created to support teams working collaboratively on 3D assembly designs.
To get started open an existing or new 3D design.
Comments can be viewed by everyone collaborating on a design. To add a collaborator, simply click the plus collaborator icon
in the top-level CAD menu or add them in the properties of your design.
Once you are inside a design you will see in the top menu bar the comment icon
.
When you click this icon, the comment window will open, which displays all the comments that have been added to the design.
To add a new comment, click the pin icon
at the bottom of the comment window and type your comment. Add a pin to the design (to show what your comment is referring to). Select the small pin on the left, choose a color, and click to place the pin on your design.
add a comment
add a pin
Adding a pin saves the current view: when other people click on your comment, they will be able to see the design at the angle you viewed it from when you placed the pin.
When you're done typing your comment, click submit.
You can always come back to edit your comment by selecting V (in the top right) and selecting edit. You can also delete your comment here.
To move your pin, simple click to edit your comment and click the pin icon
again.
The commenting menu allows for users to reply to each other's comments, which you will see nested underneath the original comment.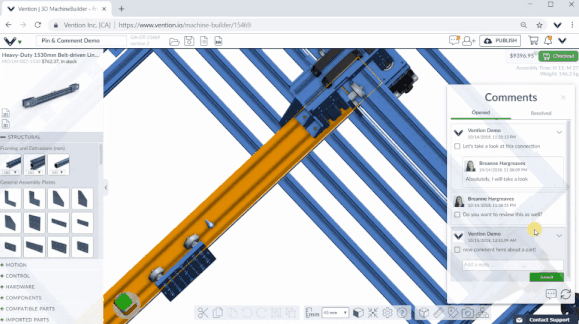 Click the small green box on the left-hand side to resolve a comment. Resolved comments are tucked away under the Resolved tab at the top of this menu. You can bring them back anytime by unchecking the box.
You will be notified of comments on designs you are collaborating on through the bell icon
at the top of the Vention site or through an email summary.
Close the comment window, or bring it back, by clicking that comment icon
in the top menu.
Comments (0)